Sunday, June 5, 2011
(warning: long, run-on sentence to come) I know I have been neglecting this blog for a while now, but I have been extremely busy working on my 60 page thesis, studying for my final exams (with online shopping breaks that consisted of putting hundreds of dollars worth of clothing and shoes into the cart, and woefully clicking the x on my browser... while simultaneously redrawing the amino acid structures in the back of my mind), graduating, and starting full time work. Whew! Perhaps, I will write a separate entry on everything that has happened this month. Anyway, I still found time to try out a few beauty products this month, and have found some worth sharing!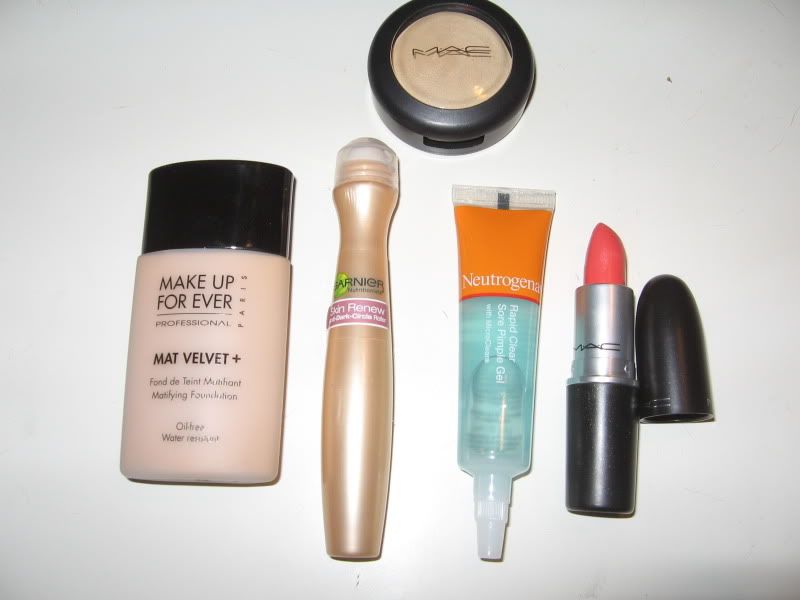 MAC Cream Color Base in Pearl:
I swipe this down my nose, dab a bit on my cupid's bow, and apply it to my cheekbones. It gives me a healthy, bright glow without making my face look excessively shiny.
Makeup Forever Mat Velvet + Foundation
: I am in the color Natural Beige #40, and it is the perfect shade for my skin. The coverage is moderate, but it is easily buildable. I am going to do an in-depth review on this foundation in a few days.
Garnier Anti-Dark Circle Eye Roller
: I don't think the caffeine in this product makes my eyes look more awake, nor do I think the roll on packaging stimulates microcirculation. However, the color of this concealer matches my skin really well. It's quite sheer, but I don't have too much pigmentation under my eyes. If you have very dark circles, I would recommend a peach toned concealer over this one.
Neutrogena Rapid Clear Sore Pimple Gel
: This isn't a miracle product, but if you are consistent with application, the pimples will disappear after 2-3 days. I get cystic acne--those large zits that are painful to touch--every time I'm on my period. Even if I refrain from popping them, they tend to leave scars. This product has effectively diminished those pimples without leaving scars behind.
MAC Lipstick in Vegas Volt
: I love this color. It looks really bright in the tube, but gives my lips a natural looking flush. I do have pigmented lips, so the color may appear a lot brighter on those with paler lips.