Friday, June 24, 2011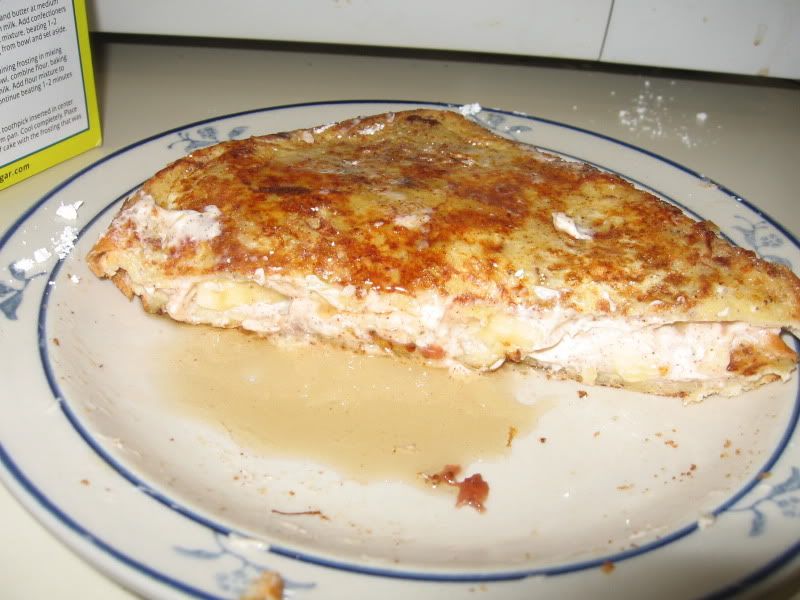 This is a recipe that I whipped up (no pun intended) this morning. It was very easy to make, and tasted delicious! The recipe is below. If you put your own spin on this, I would love to see how your french toast turns out.
Serving: 6
Filling:
1/2 tsp vanilla extract
3/4 tsp cinnamon
6 oz cream cheese, softened
1 1/2 tsp brown sugar
strawberry jelly (or any fruit jelly)
3 small bananas
Batter:
3 eggs
2 tbsp milk
1 tsp vanilla extract
1/2 tsp cinnamon
Other:
6 slices of bread
Dash of powder sugar
Maple syrup
1) Mix cream cheese, brown sugar, cinnamon, and vanilla extract until smooth. Spread the mixture onto each slice of bread, along with your favorite fruit spread. Add sliced bananas on 3 slices of bread. Place a slice of bread without bananas on top of a slice of bread with bananas.
2) Combine eggs, milk, vanilla extract, and cinnamon in a wide bowl. Whisk until smooth.
3) Melt 1 tbsp of butter on a non-stick skillet over low-medium heat.
4) Dip the bread in the mixture for approximately 5-10 seconds. Make sure both sides of the bread are saturated in the batter.
5) Transfer the soaked bread onto the skillet. Cook until golden brown on each side.
6) Sprinkle with confectioners sugar and drizzle with maple syrup if desired. Slice diagonally along each to create 6 servings.
I ate mine with a small side of strawberries and a glass of orange juice. I am stuffed! (no pun intended here either) Enjoy! :-)
Read more...