Friday, April 29, 2011
Hi, lovely readers. I bought a lot of beauty products this month because Ulta had pretty sweet deals throughout the month, and Sephora recently had a code that took 15% off the entire purchase. The swatches are on the bottom of the post, as usual.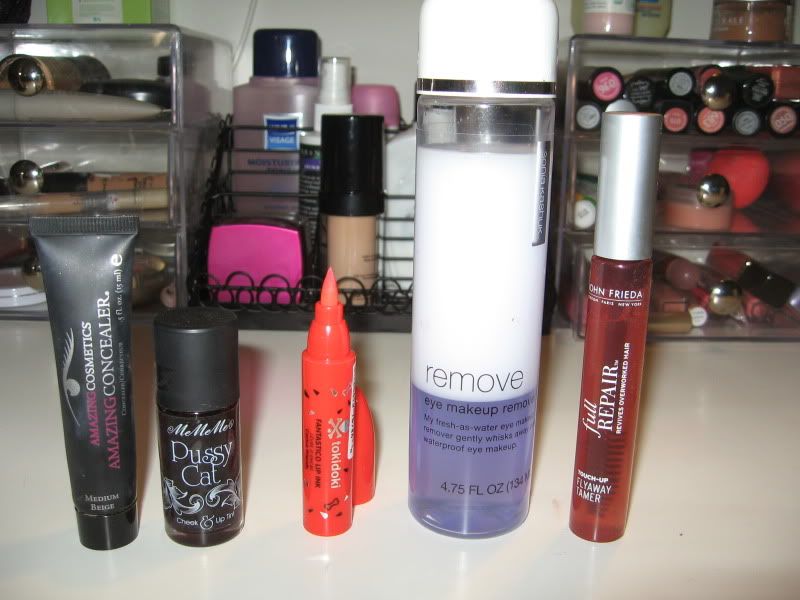 Sonia Kashuk Makeup Remover
$9.99: I found my HG makeup remover. This is it. Best makeup remover EVER.
Amazing Cosmetics Amazing Concealer
$42: I got this from Ulta when these were 50% off, which makes me love this even more. The consistency is very similar to MAC's pro long wear concealer. It's primarily liquid, but slightly creamy. It is really easy to blend, conceals well, matches my skintone (I bought mine in medium beige, and I'm a NW25) and does not turn cakey on the skin.
John Frieda Flyaway Tamer
$8.99: It comes in a tube with a mascara-like wand. The product is clear and unscented. I have a lot of "baby hairs" and flyaways, especially after I blowdry. I've tried using dryer sheets to calm my flyaways, but it only keeps them tamed for a few minutes. This product is really effective, and it doesn't make your hair turn stiff, oily, etc.
NYC Bronzer in Sunny
$2.32 (not pictured): I applied this like a blush, and it gave my face a healthy glow. I haven't had much luck finding a bronzer that suits my skintone, but this bronzer is definitely flattering on me.
Mememe Pussycat Cheek & Lip Tint: My friend got me two of these when she visited the UK. I'm pretty sure you can't find this in the U.S., but can be ordered on Ebay. This is the perfect dupe for Benefit's Benetint, but at a fraction of the cost! Benetint is $28, and the Pussycat tint is around $14 on Ebay. This gives my lips a nice flush of red, almost as if I applied a cherry red lipstick and gently wiped it off with a tissue. It looks nice with a neutral or simple eye. I also tried it on my cheeks, but the color was a bit too bold against my somewhat fair complexion. I think it will look nicer on a darker skintone, so I'm excited to wear it on my cheeks during the summer. It is also pretty easy to blend.
TokiDoki Lip Stain in Cactus Friends
$10: I'm not usually a fan of lip stains since they tend to dry out my lips. However, this lip stain doesn't dry out my lips and I love the color. It's a coral, orange color, which is one of my favorite lip colors to wear year-round. Also, I'm pretty content with the staying power of this lip stain. It doesn't stay on all day, but the color stays put for a couple hours.
Swatches: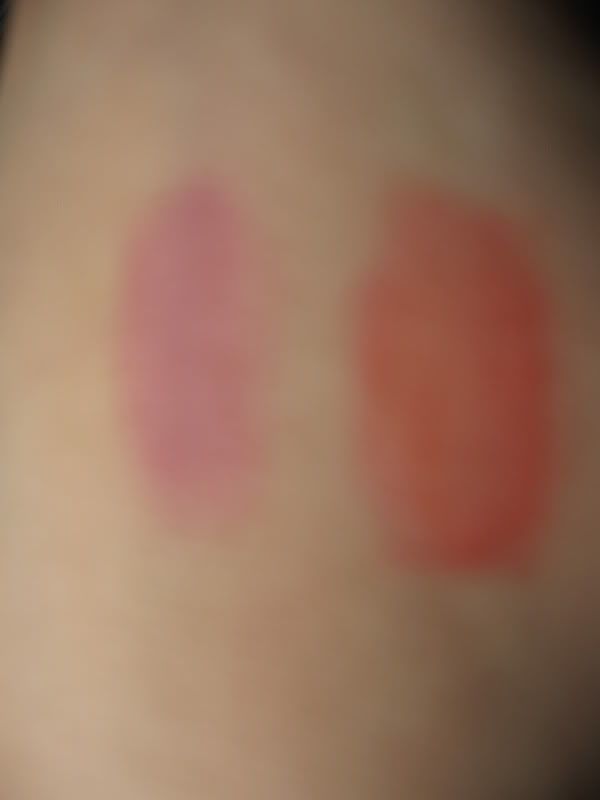 L to R: Mememe tint and Toki Doki lip stain
Read more...